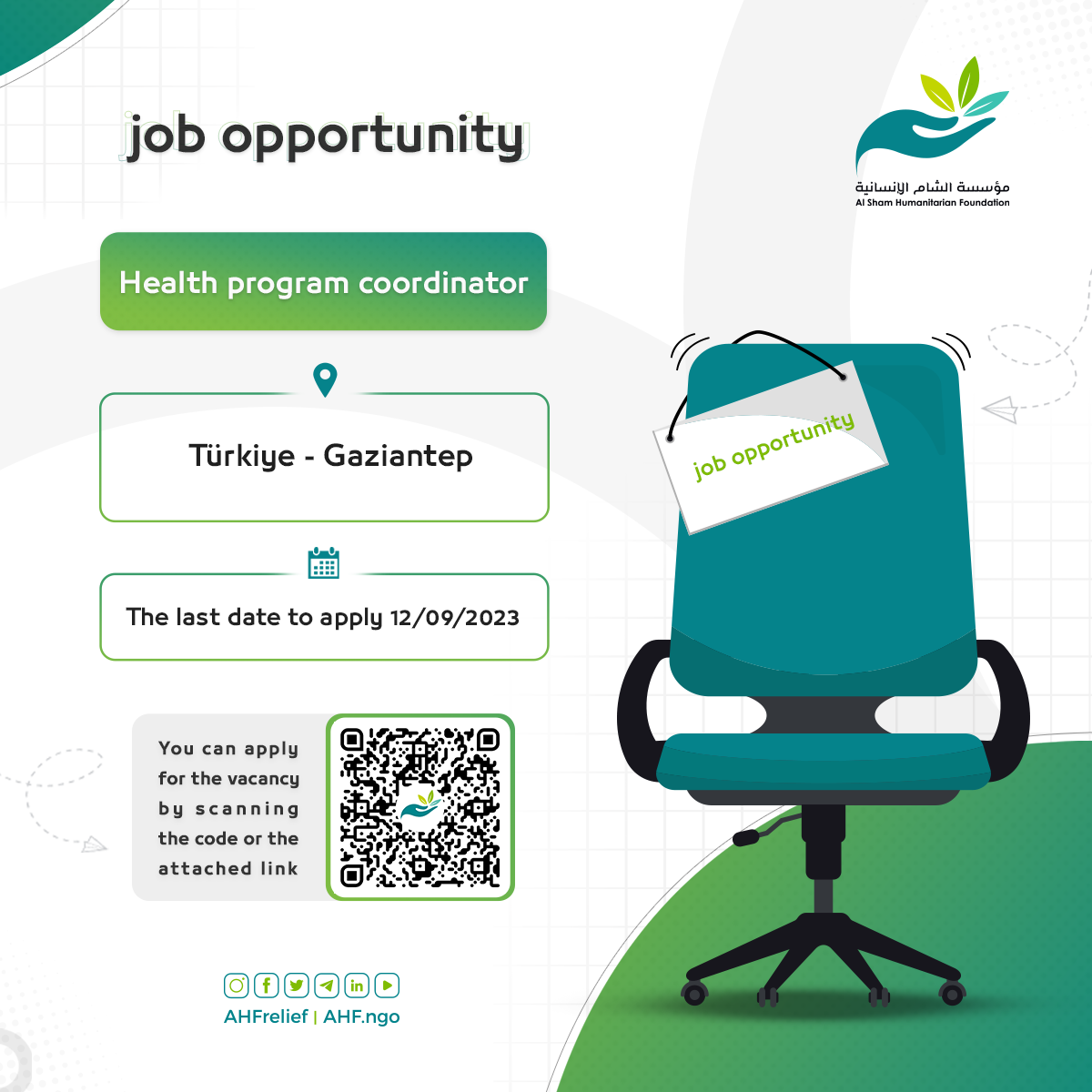 | Last date to apply | Location | The department it belongs to | Job title |
| --- | --- | --- | --- |
| 12/09/2023 | Turkey – Gaziantep | Health Program | Health program coordinator |
Job purpose:
Supervising the management of medical projects according to AHF strategy, including the relevant work teams in the Field, and developing detailed administrative and technical plans that regulate the work and updating them periodically from the moment the project is launched until the completion of the closing operations, while ensuring the quality of implementation, coordination, reporting, achieving goals and outputs according to the required time and cost allocated to each project, in addition to covering technical meetings and workshops in Turkey as needed.
Required tasks:
Contributing to achieving the Foundation's strategic plan related to the required health and nutrition sector.
contributing in write project proposals within specific sectors and multi-sector project proposals.
Contributing to building partnerships with local, regional and international humanitarian organizations and United Nations institutions and coordinating with them to participate in the response and implementation of projects.
Supervising the evaluation, modification and correction of studies received from internal offices and partners.
Communicating with departments, offices and internal centers regarding the implemented plans and projects.
Submitting needs and periodic and interim reports to management and proposing recommendations related to each report.
Participating in the review of the proposed materials for publication in coordination with the media department in the Foundation -: .
Attending periodic meetings with local, regional and international organizations and representing the program. Qualifications:
Bachelor's degree in (Medicine, Dentistry, Pharmacy) or equivalent specialized .Required experiences:At least 7 years of experience in program management in non-profit organizations.
At least 5 years of experience in the field of humanitarian work.
At least 3 years of experience in administrative supervision.professional certificate.
جميع البيانات المدخلة تتبع لسياسة حماية