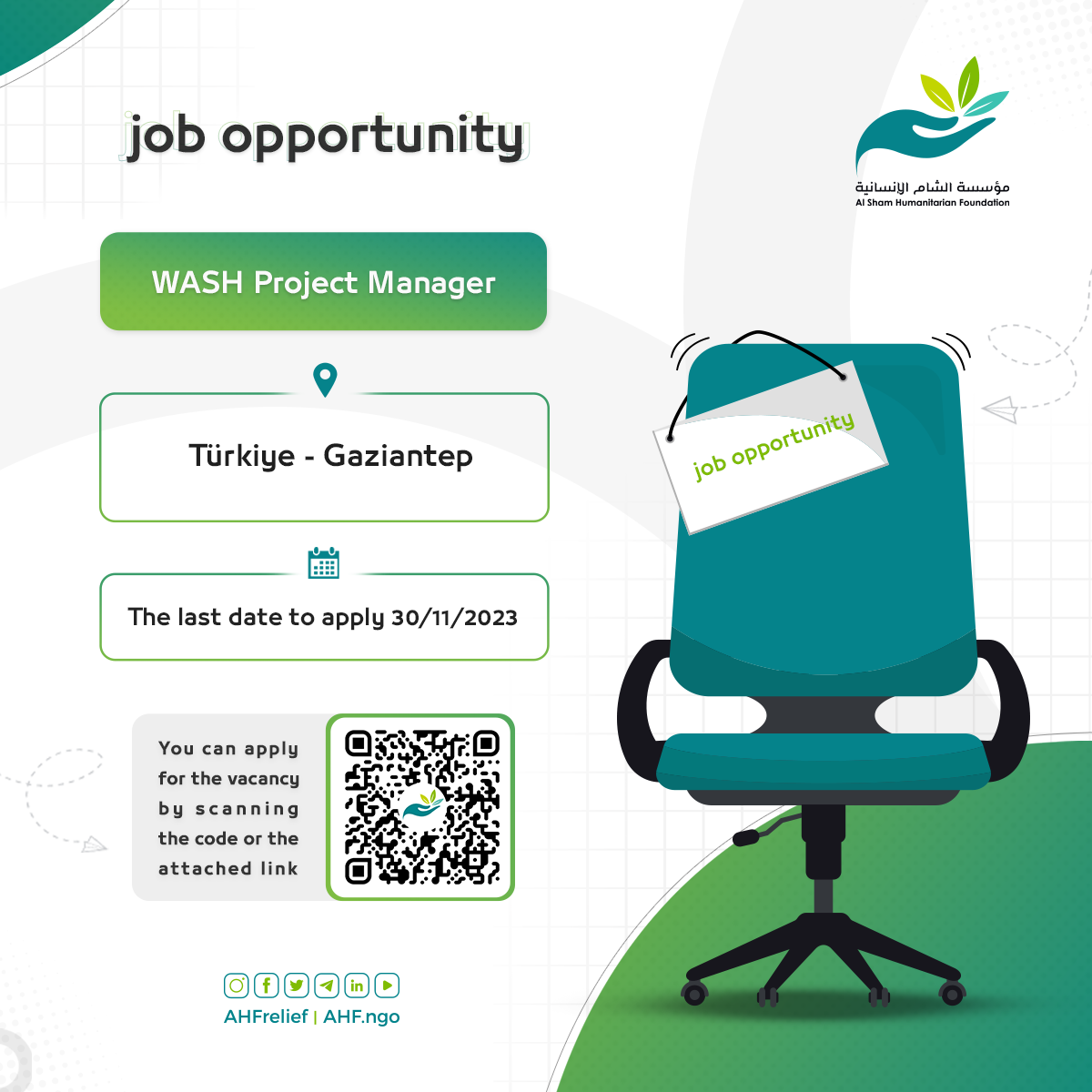 | Last date to apply | Location | The department it belongs to | Job title |
| --- | --- | --- | --- |
| 30/11/2023 | Türkiye – Gaziantep | Programs and grants management | |
KEY RESPONSIBILITIES
• Responsible for managing specific projects or project components of multiple projects including:
Project(s) management:
– Responsible for managing the project day-to-day activities in line with field program team in line with the work plans and agreed policies/ SOPs of as well as donors
– Following up the project's implementation stages in accordance with the proposal and work plan, and report the project progress to the program manager as agreed
– Follow up the implementation process and recognizing the obstacles and solving them/ request support from Program Manager.
To deal with various data collection tools, analyze the data and highlight the findings.
– Collaborate with the MEAL department to ensure all monitoring activities are applied and completed accordingly, review the MEAL reports (including RNAs, PDMs, etc) received and utilize them for evidence-based project management
– Raising Procurement requests and recruitment requests in line with the budget and monitoring the progress in close coordination with the relevant department.
– Following up the project's staff issues in a timely and appropriate manner
– Following the financial policies and procedures of both AHF and partner to ensure that transactions are properly documented
Reporting:
– Preparing monthly narrative report timely and accurately
– Tracking the admin and financial issues in an issue log
– Reviewing the databases and ensuring that they are properly prepared before submission to the donors
Accountability and safeguarding:
– Monitor and address the complaints and feedback received under the assigned projects in coordination with the accountability officer
Identify lessons learnt from the complaints and feedback received and apply to the project, where possible
– Collaborate with the safeguarding focal point to ensure all child safeguarding and PSEA measures are applied and followed in the project
Coordination:
– Facilitate the coordination with the MEAL and supporting departments including finance, Media, logistics and HR
– Participate in clusters or working groups, if assigned
Note: the above mentioned key responsibilities / accountabilities are illustrative ones. Another future responsibilities/accountabilities may be assigned to the job depending on the department organizational chart.
Qualification and Experience:
Essential
Relevant Bachelor Degree, preferred in civil engineering –
Previous experience in project's management in I/NGO for 3 years as minimum, Experience in relevant sector is an asset –
Excellent command of English B2 ,
Core & Managerial Competencies &Technical –
Core Competencies –
Communication –
Stakeholders Orientation –
Accountability –
Commitment to Continuous Learning –
Technological Awareness –
Planning and Organizing –
Supervisor/Managerial Competencies –
Judgment/Decision-making –
Written and verbal communication –
Technical Competencies –
High computer skills, especially Excel, Word, and PowerPoint –
High communication skills –
Team leaderships –
Time-Management skills –
To follow up day to day implementation plans –
To generate plans, allocate the tasks and follow up the implementation process –
To lead teams, allocate tasks, and ensure the proper managing of the activities –
To analyze data to measure the indicators of the project –
To generate professional narrative reports –
To pay attention to details –
Child Protection Policy –
Child abuse in all forms is unacceptable to AHF , which recognizes its responsibility to protect children from harm in all areas of its work. Violet is committed to   ensuring a child-safe environment and is applying a zero-tolerance approach towards any kind of child abuse and exploitation
Discrimination, Abuse and Harassment Policy
AHF expressly prohibits and will not tolerate any form of discrimination, abuse, harassment (sexual or otherwise), based upon race, ethnicity, religion, national origin, gender, age, sexual orientation, marital status, citizenship status, disability, or military status. AHF employees and related personnel must under no circumstances take part in any form of discrimination, harassment, or abuse (physical, sexual or verbal), intimidation or exploitation, or in any other way infringe the rights of others inside or outside AHF
All data entered follows a protection policy